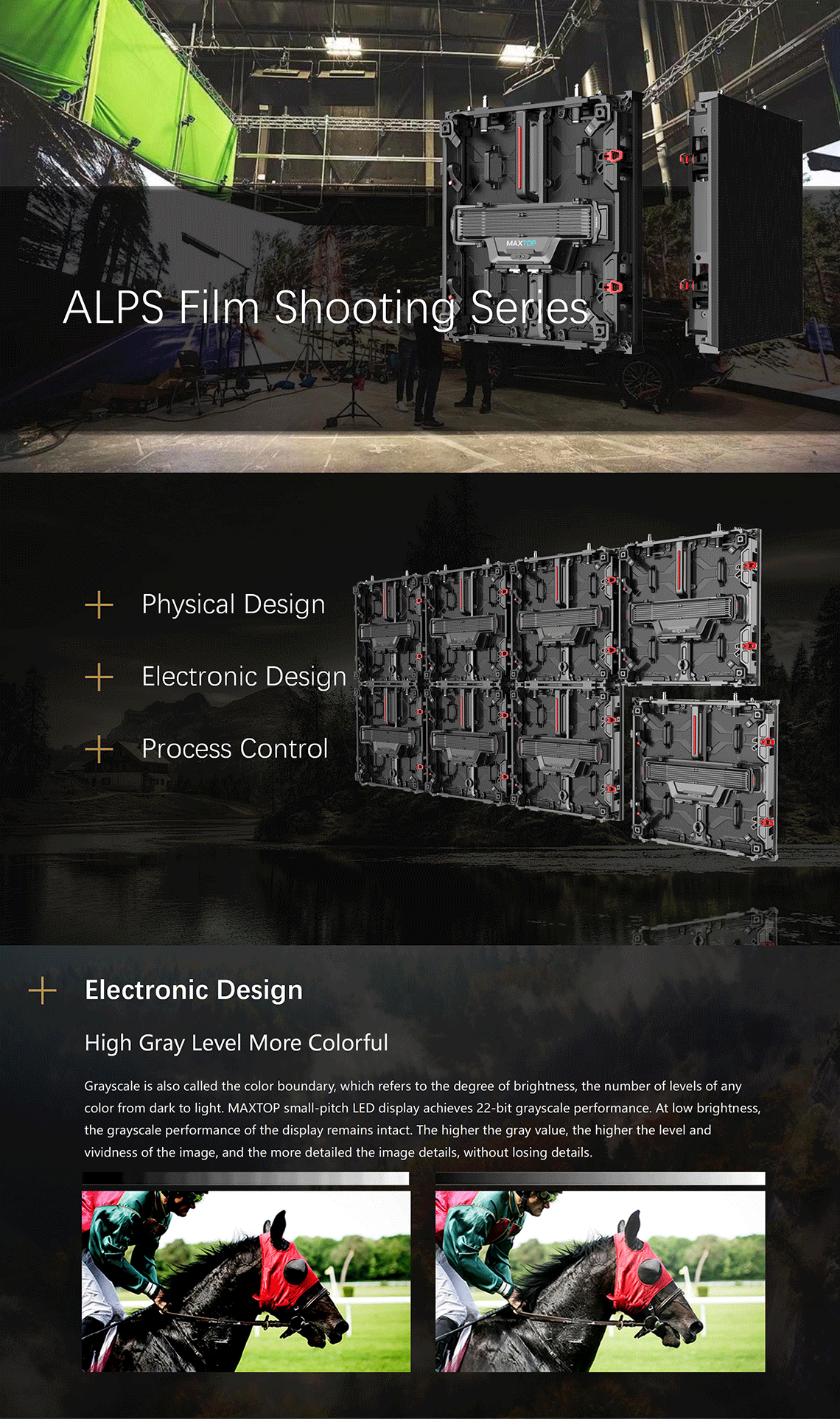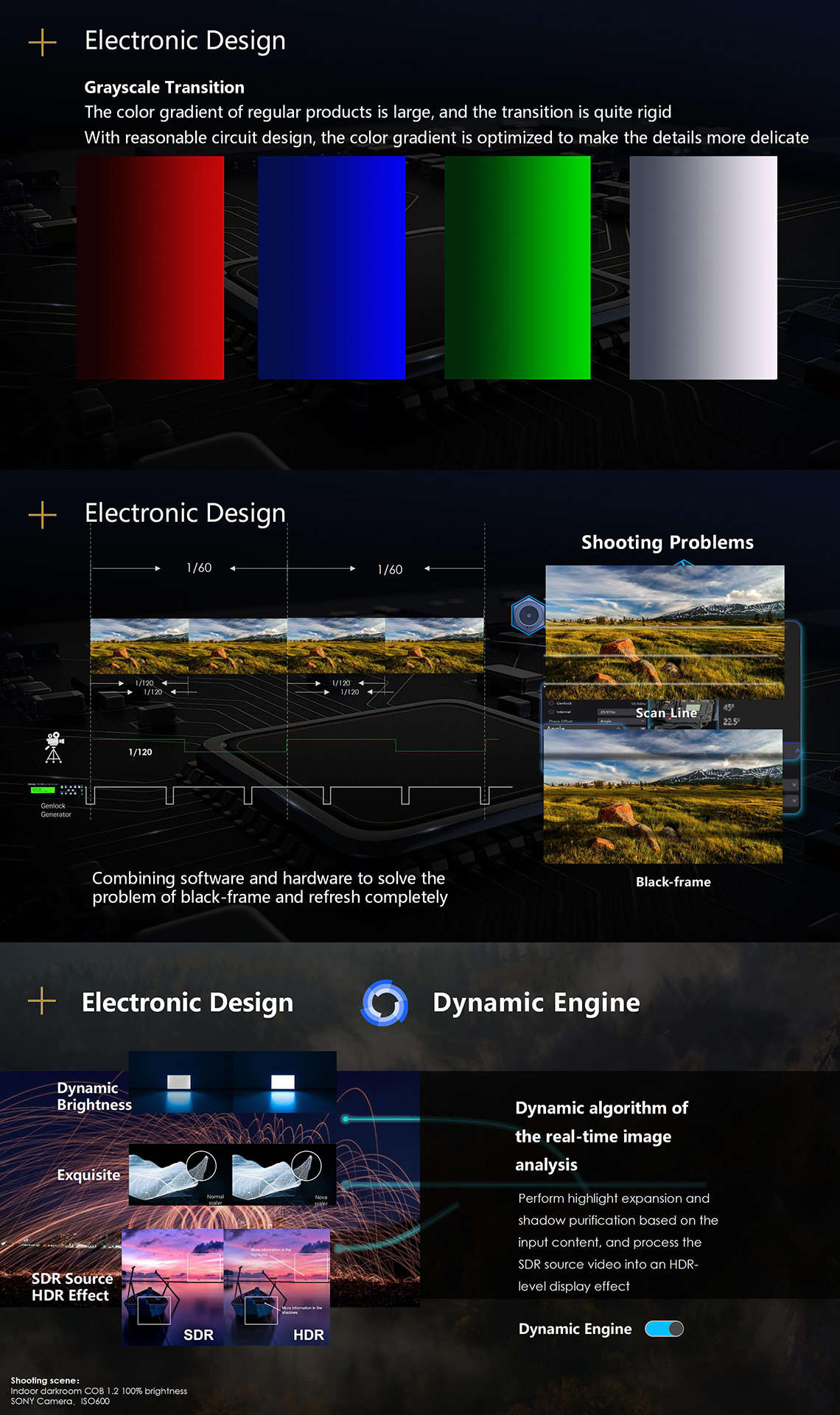 Film studio XR LED wall Parameter:
---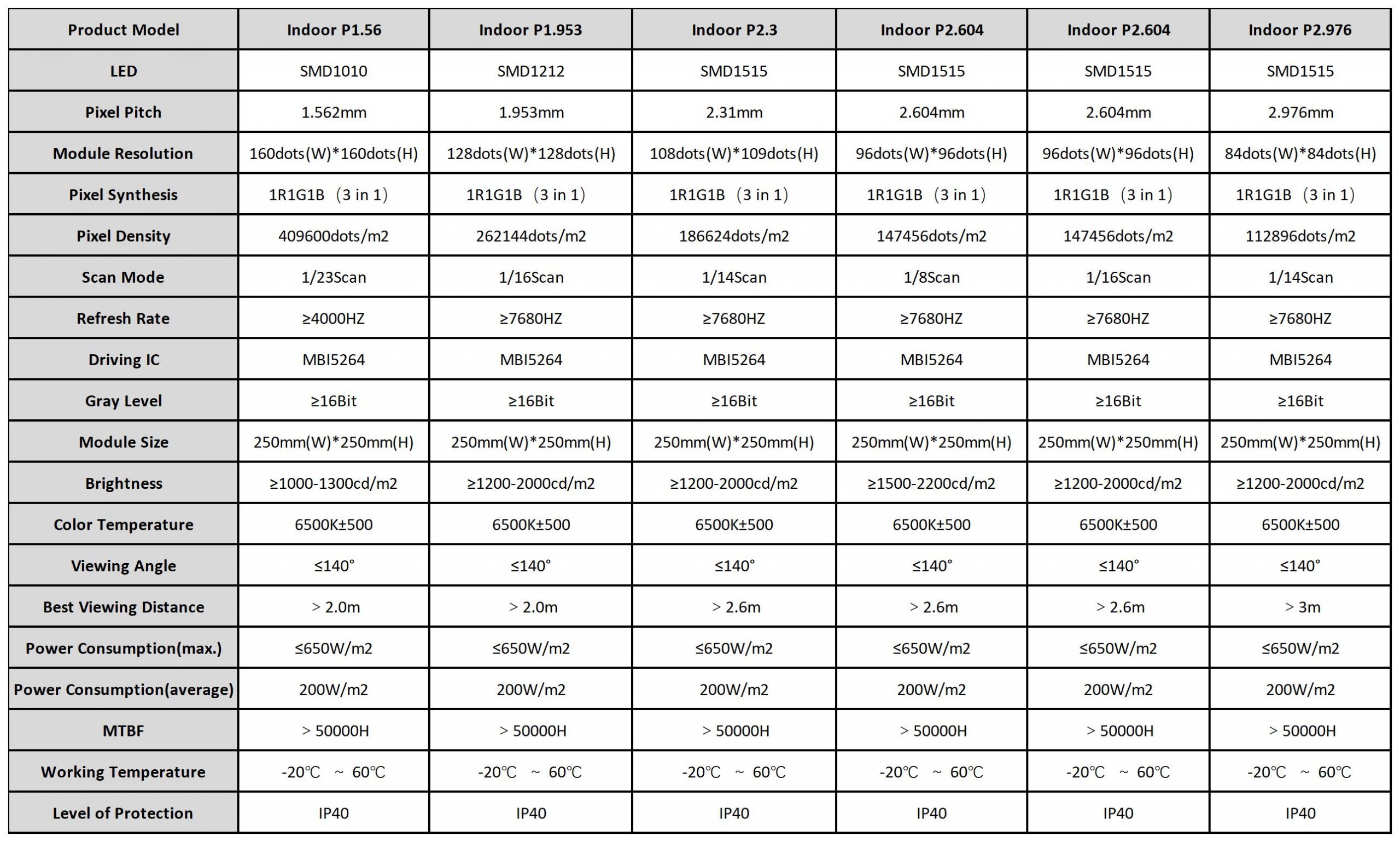 MAX

TOP

's film studio XR LED wall:
Resolution: P1.9/ P2.3/P2.6
Ultra-high refresh:> 7680HZ
Ultra-high brightness:> 1500 nilts~2000nilts
Wide color gamut: reach DPI-P3 color gamut
Arc lock, rotating arc lock, and higher precision. In other words, the angle can be customized to meet different photography scenes.
Flash function and automatic storage of correction information.
Independent power box patented pressure bomb.
Semi-automatic corner protection. So more convenient storage.
Ultra HD LED Studio Series
Virtual LED shooting technology helps in film and television shooting. Developing virtual production technology. And raising it to a higher level.
Function introduction
Low-light high grayscale technology, 6000:1 contrast ratio, 22-bit grayscale, 7680Hz refresh rate
Wide color gamut and uniform color. No tailing and no ghosting indeed. In fact, it is up to 99.7% DPI-P3 wide color gamut.
Seamless and unlimited stitches. Seams can be fine-tuned. And the adjustment accuracy is 0.01mm.
Natural cooling and ultra-quiet fanless design.
Die-cast aluminum design and CNC finishing. And the cabinet is very flat.
Front and rear maintenance design, lighter and thinner.
Double backup of the power signal to ensure a safe and reliable meeting.
The flash function can only store calibration data. So that easy to repair and uniform color.
High gray scale-more refined
Grayscale is also called color boundary or grayscale. It refers to the degree of brightness. The number of levels of any color from dark to light. MAXTOP film studio XR LED wall achieves 22-bit grayscale performance. At low brightness, the grayscale performance of the display remains intact. So the higher the gray value, the higher the level and vividness of the image. And the more detailed the image details. So no loss of information.
High refresh rate-more stable
The refresh rate of MAXTOP's new generation movie screen reaches 7680Hz. The picture is stable, such as no ripple and no black screen. So responds to dynamic display. The edge of the picture is clear indeed. The dynamic performance is good indeed. With no ghosting and no tailing. The image information restoration is accurate and true. And the video picture is smooth. So that brings the best visual enjoyment.
Color gamut coverage
Color gamut coverage is an indication of the ability of the display to restore colors. Small-pitch LED display reaching 99.7% DPI-P3 color gamut coverage.
Case
>Taipei Studio, Taiwan
Dot pitch: P2.6 Alps series 16 scan
Area: front curved display screen 125 square meters, ceiling landscaping display screen: 230 square meters
Adopt Nova control system
Unreal Engine 5 screen rendering technology
>UK Studio
Point pitch: P1.9 Alps series
Area: 55 square meters of front straight-edge display
Adopt British Brompton System
Unreal Engine 5 screen rendering technology
If you need to buy the outdoor 3D LED display, please visit our 3D series.
Also, you can kindly visit our latest LED product in Alibaba.
Thanks for watching.