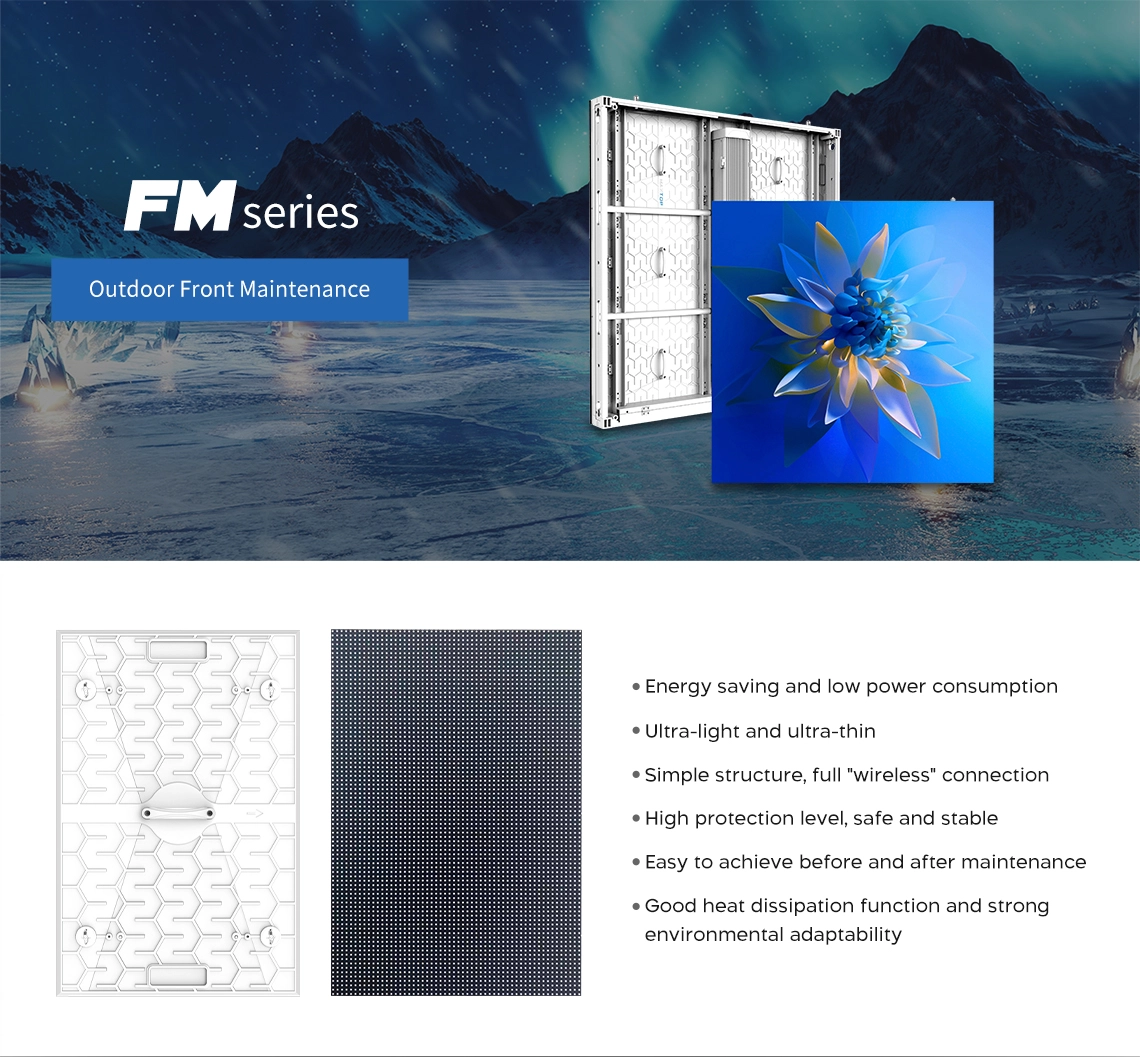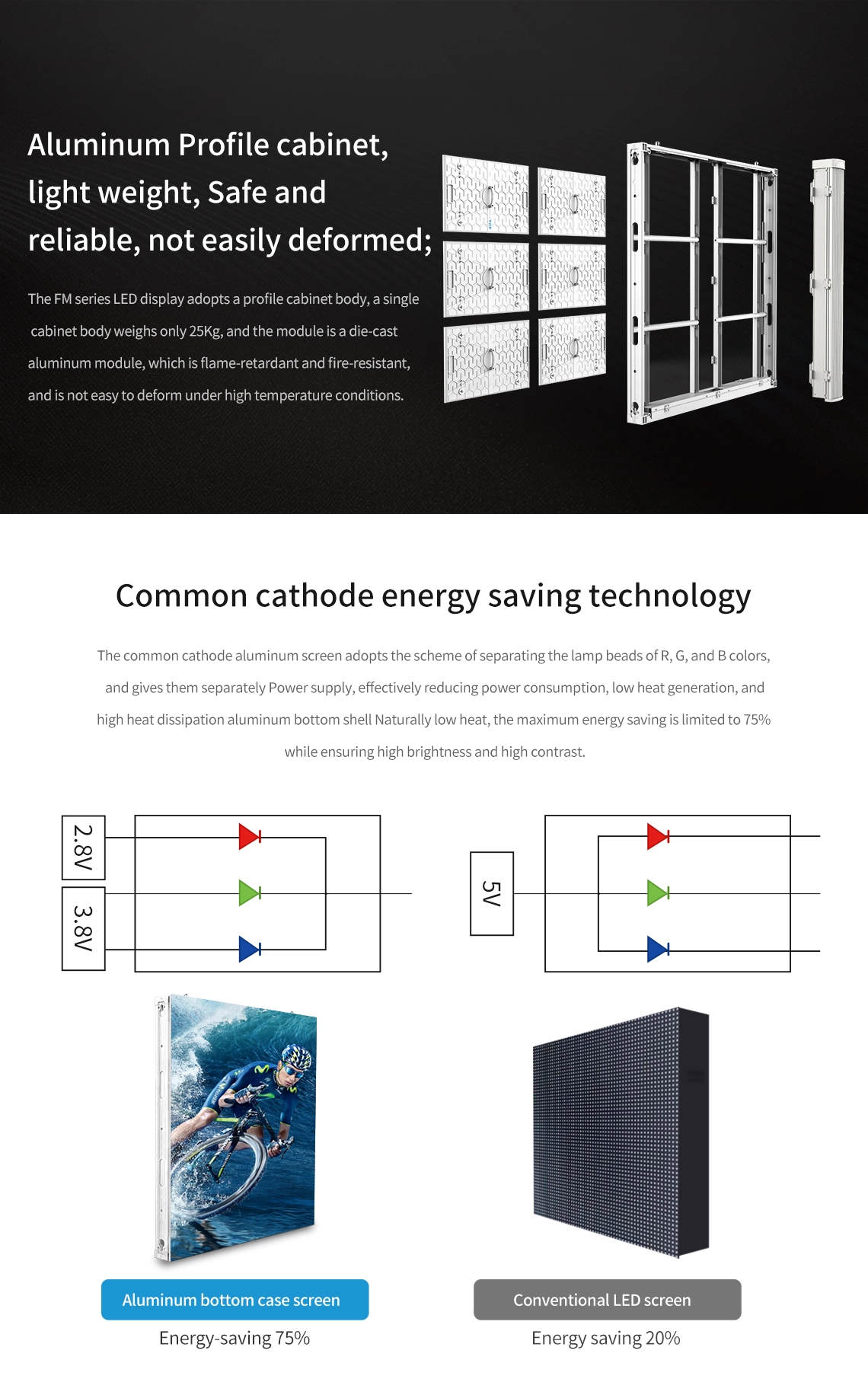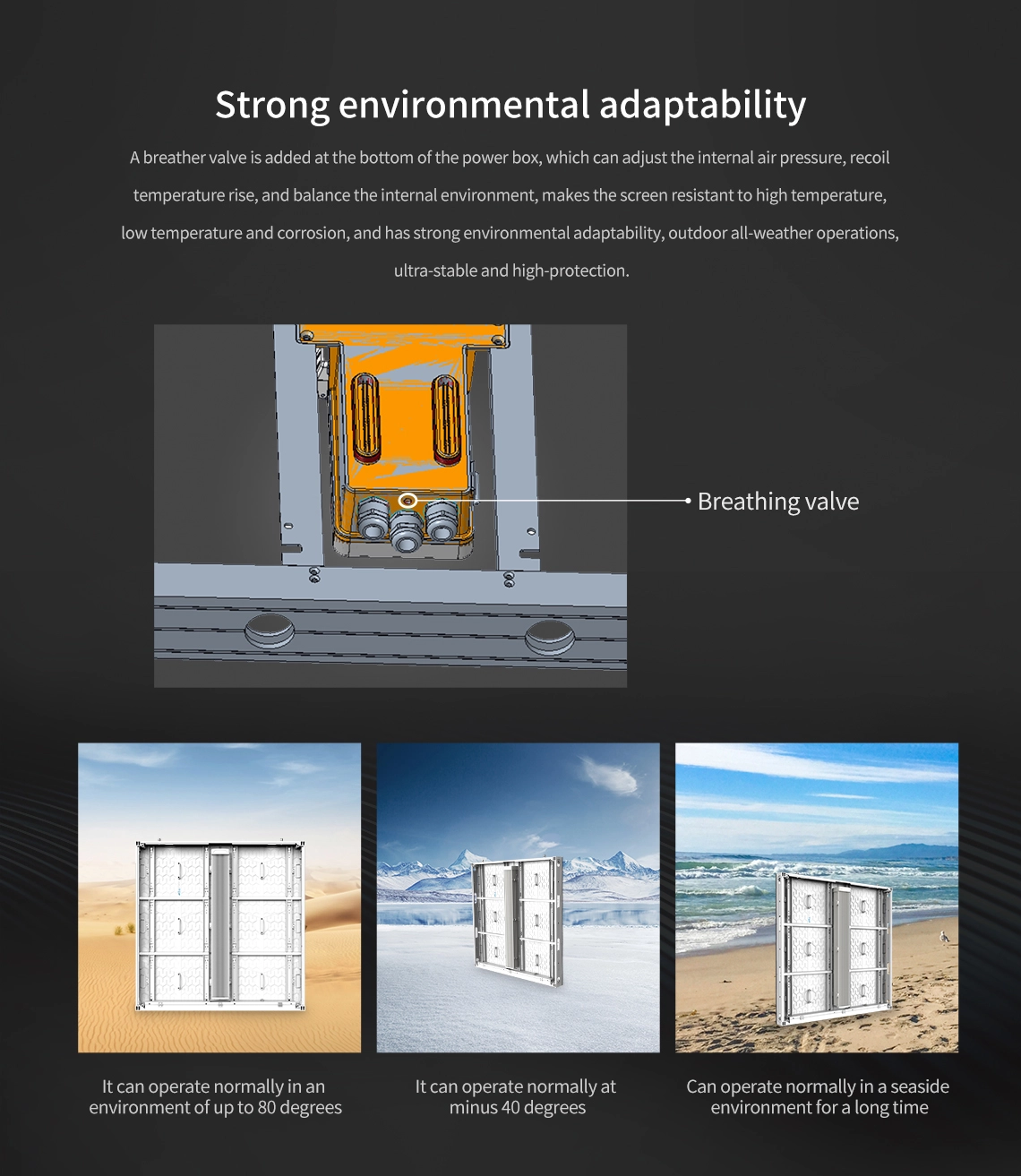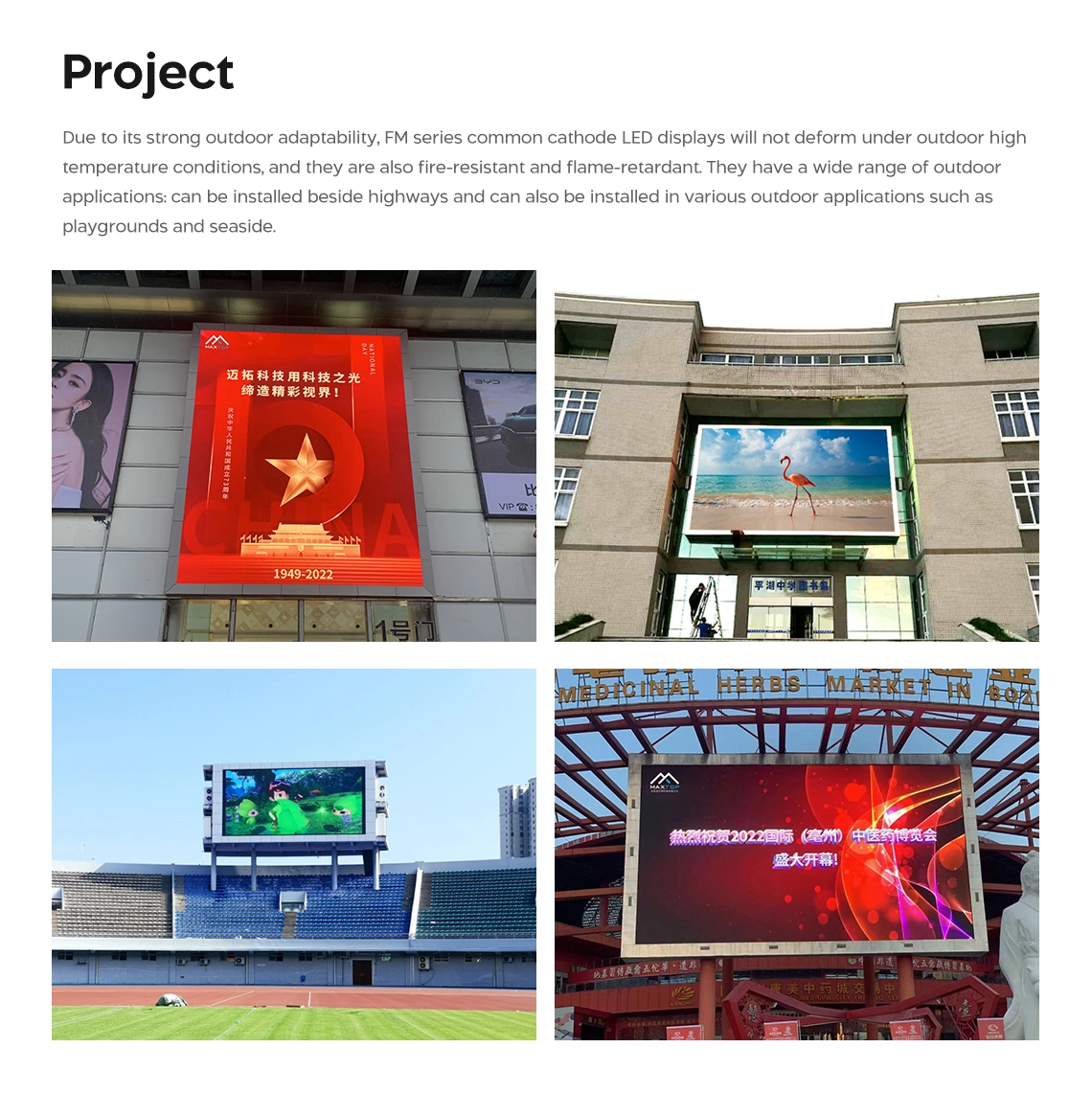 FM series outdoor LED panel Parameter: P5 P5.7 P10
---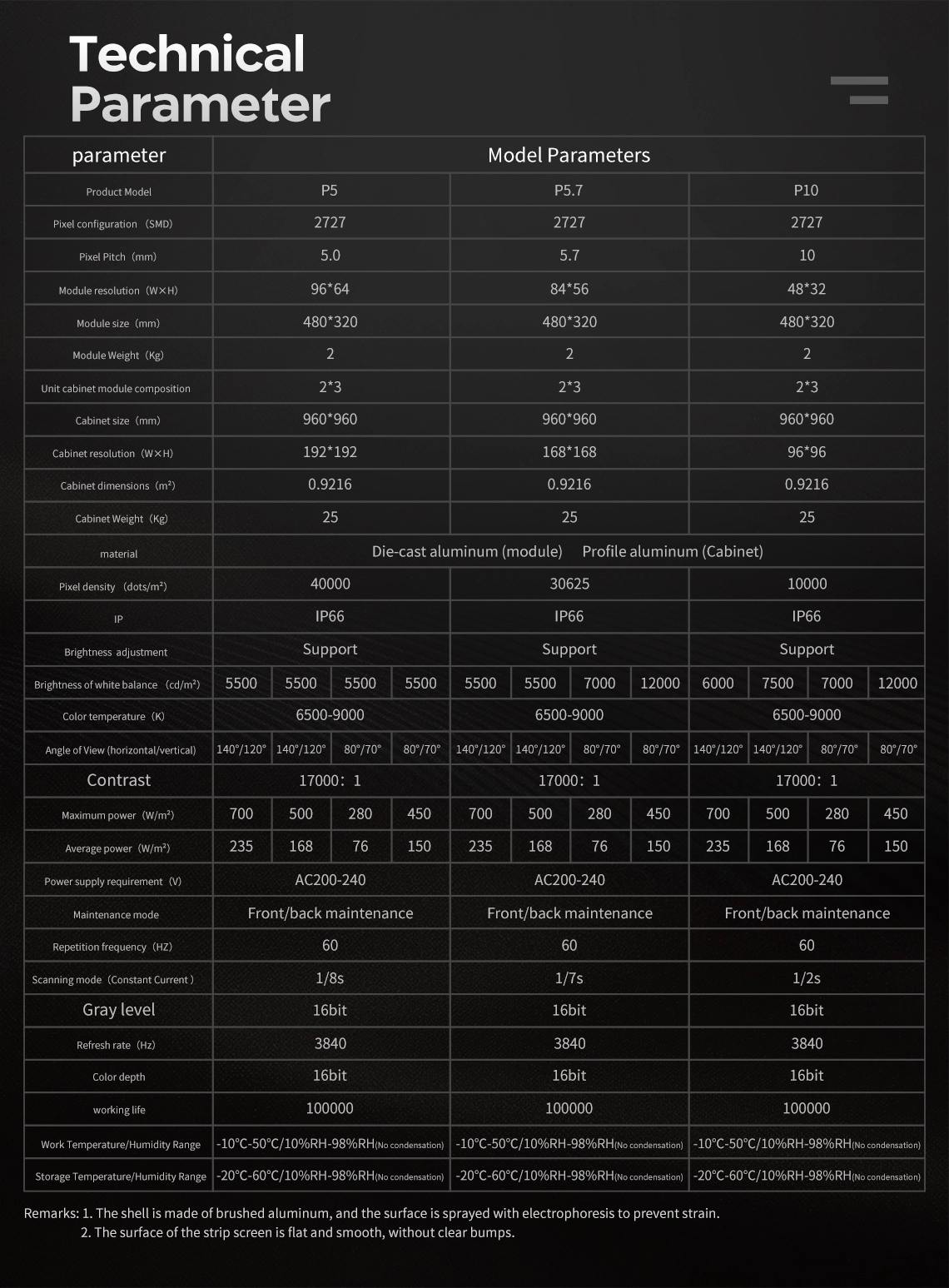 Upgrade your outdoor displays with our P5 LED panel
As the world recovers from the pandemic, people are once again enjoying the great outdoors. If you are looking for a way to upgrade your outdoor displays and keep up with the demand. Our FM series outdoor front maintenance LED panel is the perfect solution. Say goodbye to outdated panels and hello to bright, energy-saving panels that are easy to maintain and fit your budget.
Our P5 LED panel has a cabinet size of 960x960mm and a module size of 480x320mm. With HD resolution, you can be sure that your content will stand out and look spectacular. The outdoor panel is not only bright, but it also comes with various features that will make your installation straightforward.
One of the biggest concerns with outdoor panels is their maintenance. With the FM Series Outdoor Front Maintenance LED Screen, you can easily reach the front and back of the panel, making it simple to maintain. Not only is it simple, but it is also energy efficient with low power consumption. Our LED panels are designed with good heat dissipation technology that allows for better airflow and longer product lifespan.
Maxtop all-aluminum module bottom shell and cabinet material provide superior protection and durability against ultra-high temperature, as well as salt and alkali resistance. Our panels are designed to withstand harsh outdoor environments, making it perfect for advertising in cities, outdoor events or anywhere you need a high-quality, eye-catching display.
Suitable for various severe environments
At 10000nit brightness, our P5 LED panel doesn't require direct sunlight. And you don't even need to install an air conditioning system. Therefore, you can significantly reduce energy costs and use the savings to invest even more in your business.
In summary, upgrading your outdoor displays with our P5 LED panel is a smart decision. With its energy efficiency, front and back maintenance ease, and no need for direct sunlight or an air conditioning system, our panels are the perfect advertising solution for any outdoor environment. Furthermore, our all-aluminum module bottoms and cabinets guarantee superior protection and durability, giving you peace of mind as you promote your products and services. Try our FM Series Outdoor Front Maintenance LED Screen today, and watch your business soar.
If you need to know about other indoor LED displays, please visit our products catalog.
Kindly contact us with your outdoor project.
Email: export@maxtop-led.com
Also, you can kindly visit our latest LED news on

Facebook

.