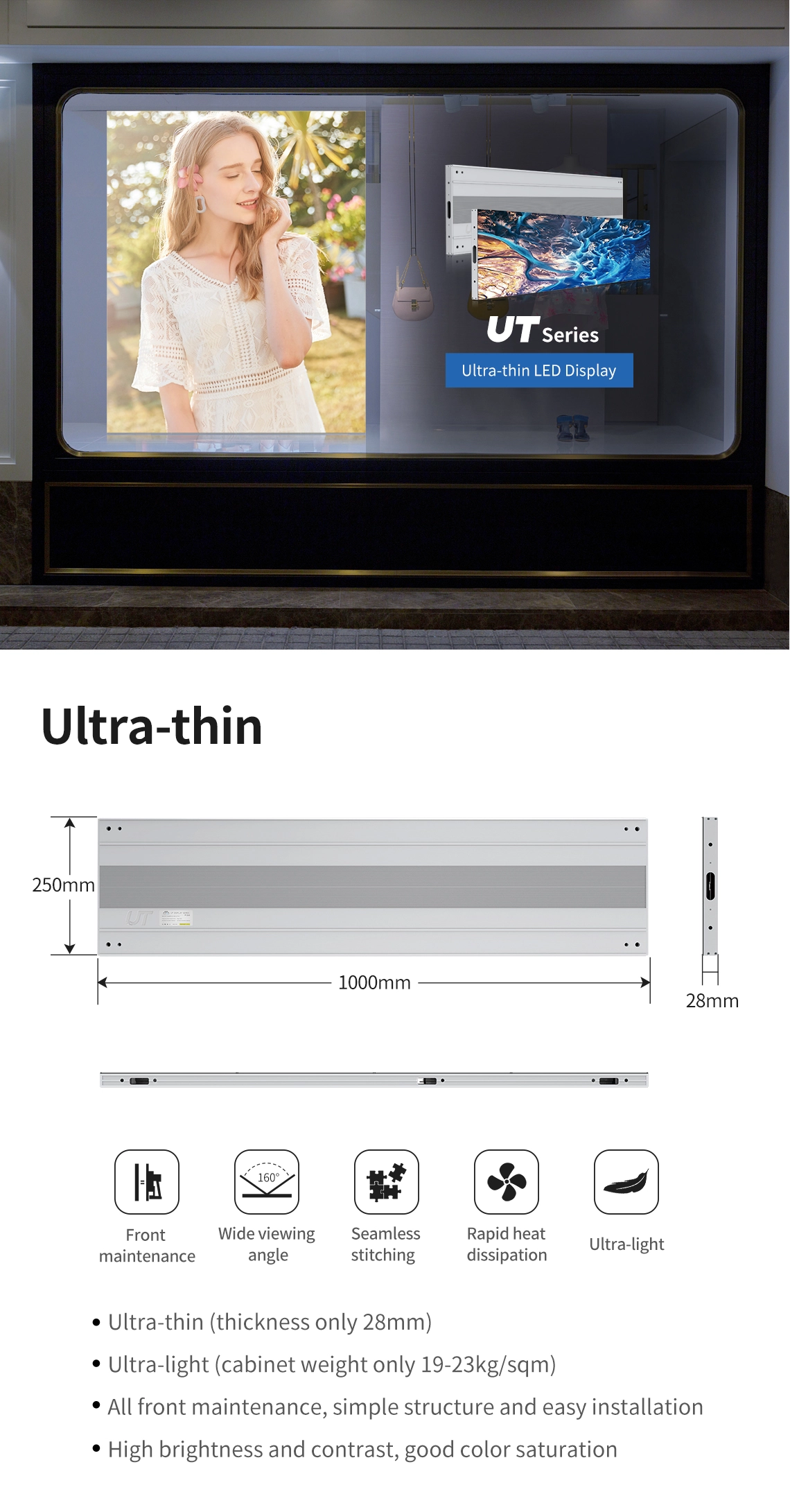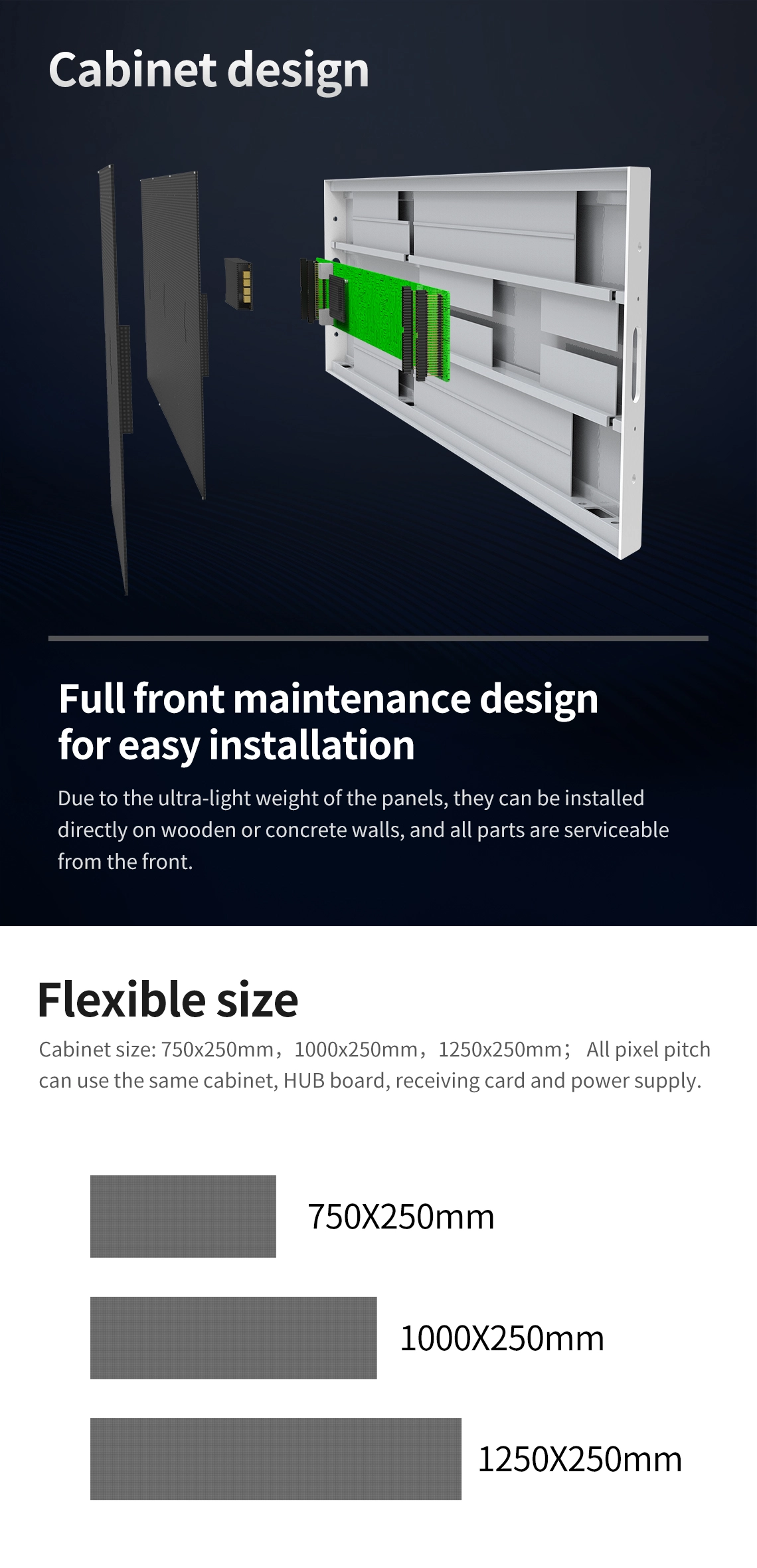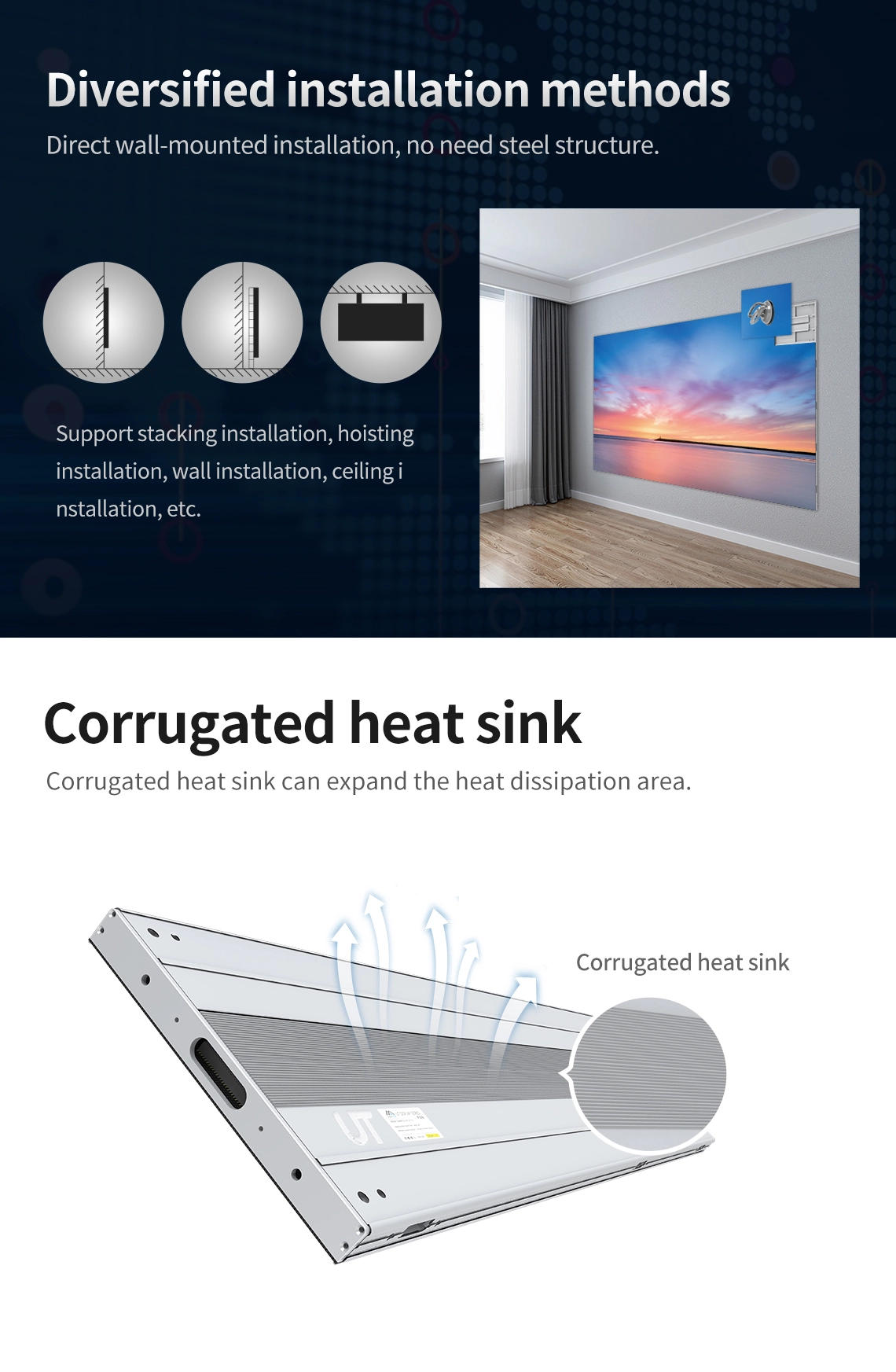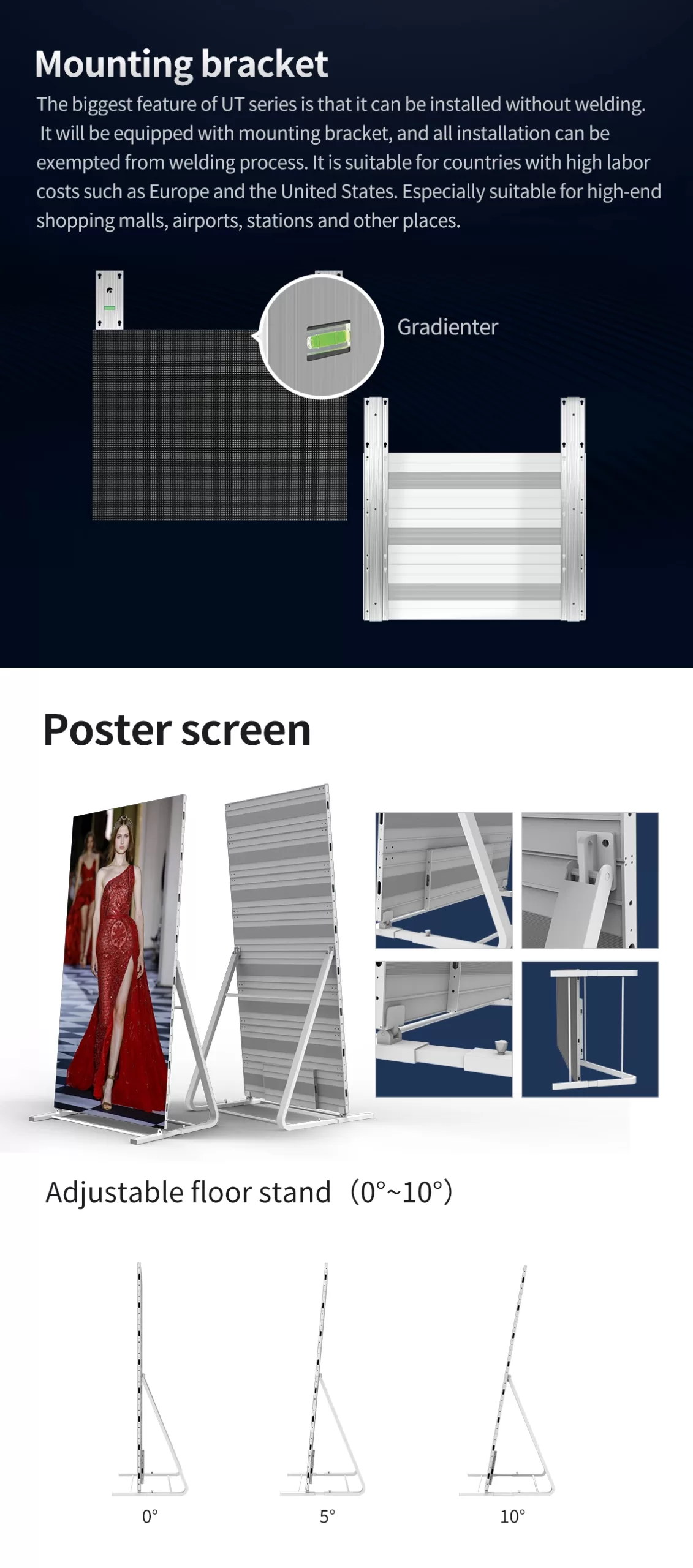 UT series Ultra Thin LED Panel Parameter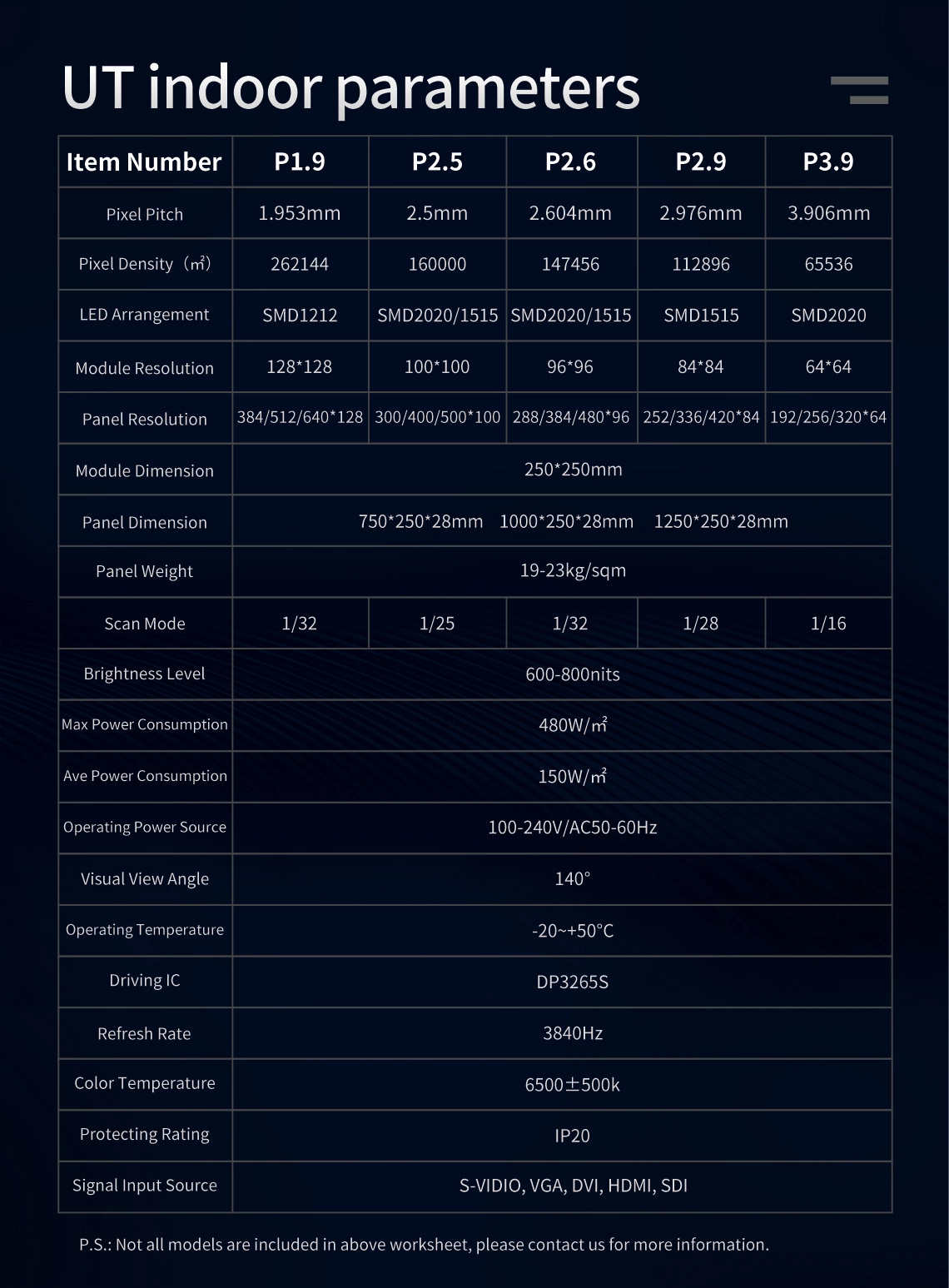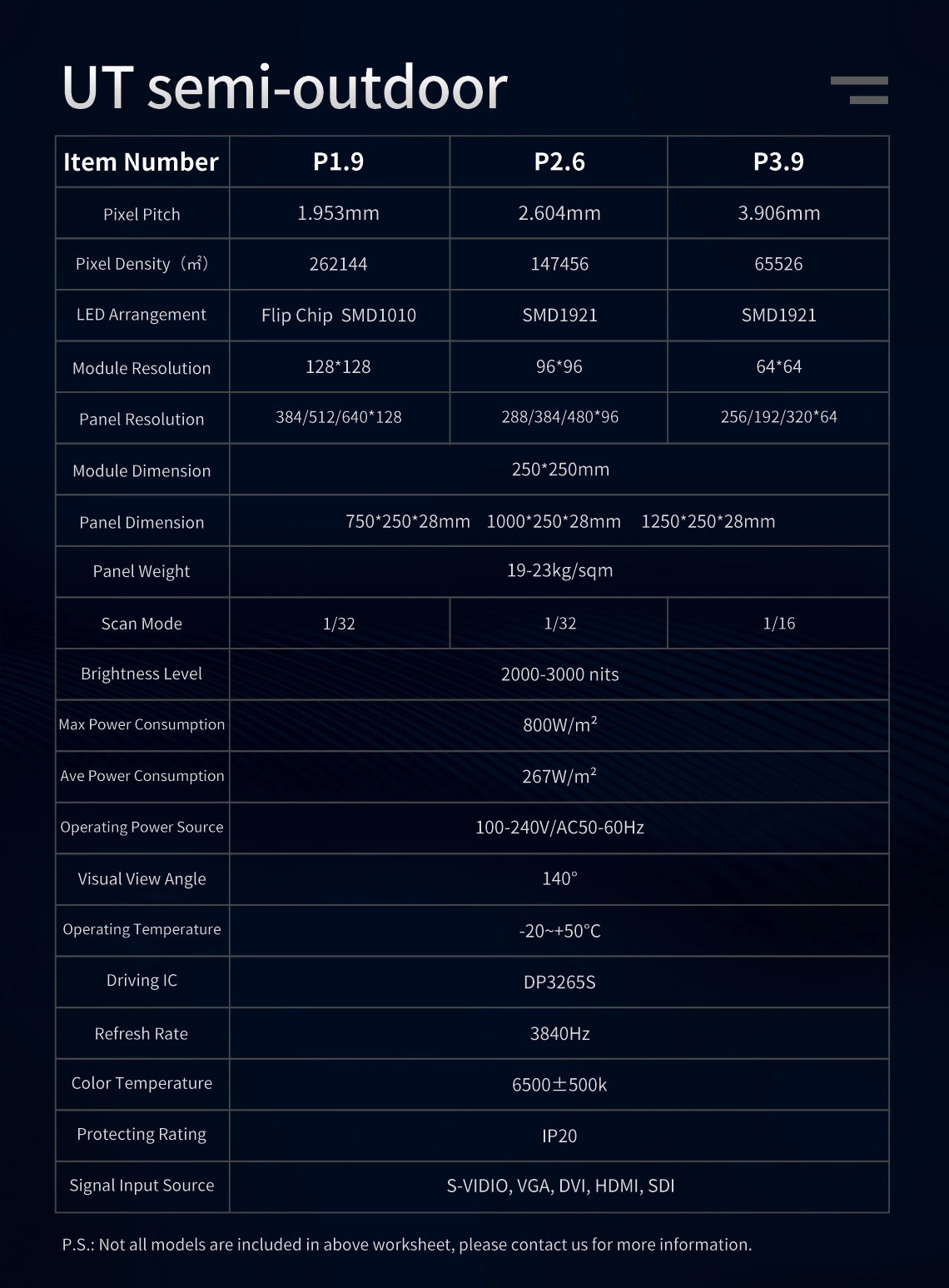 LED panel features
UT series indoor fixed ultra-thin LED panels are designed for a wide range of indoor applications, providing excellent display performance. The ultra-thin LED panel has excellent contrast, color saturation, high brightness, and a simple structure.
Our ultra-thin LED panel cabinets are available in three sizes: 750*250*25mm, 1000*250*25mm, and 1250*250*25mm. Which can be easily adapted to different installation environments. The module size is 250*250mm, and the connection is smooth and seamless.
The LED panels have high-definition resolutions of P1.9/P2.5/P2.6/P3.91, which can effectively display various forms of content. Right-angle tiling and poster screen support enable you to create unique visual displays that grab your audience's attention.
Plus, direct wall mount means you don't need a steel structure to mount our slim LED panels. Not only does this save you money, but it also makes installation quick and easy.
Installation without steel structure
Lightweight and easy to handle, our slim LED panels can be easily installed anywhere. With front-end maintenance, any maintenance work can be carried out quickly and efficiently. With an attractive design and high-performance display, UT series ultra-thin LED panels provide your audience with an unparalleled visual experience.
Also, you can use our UT series mounting bracket to install on the wall without a steel structure.
UT series indoor fixed ultra-thin LED panel is currently the thinnest LED panel on the market. Which can be perfectly presented even in a small space. This means it doesn't take up much space, leaving more room for other items in your interior.
Additionally, our LED panels offer high levels of energy efficiency, reducing your energy bills while minimizing your environmental impact.
All in all, our ultra-thin LED panels offer a superior display performance unrivaled in the market. With its excellent brightness, contrast and color saturation, and easy installation process, it is the perfect solution for your indoor display needs. Choose UT series ultra-thin LED panels, you will not be disappointed.
If you need to know about other LED displays, please visit our products catalog.
If you have an indoor LED screen project. Please send detailed information to us by email. We will give you the price as soon as possible.
Also, you can kindly visit our latest LED product on

Facebook