Today, I will introduce you to the outdoor naked-eye 3D LED screen which is very popular recently.
The naked-eye 3D LED screen is mainly realized by the following conditions:
1st is a specific installation environment, such as a right-angle or curve screen. However, there is a small gap of right-angle screens that will influence the viewing experience. Our solution is to turn the right-angle into a curve, so we specially develop a small size module to solve this problem. Such as P8, the module size is 8x16cm, so that the screen could be seamlessly spliced, and has a good showing effect.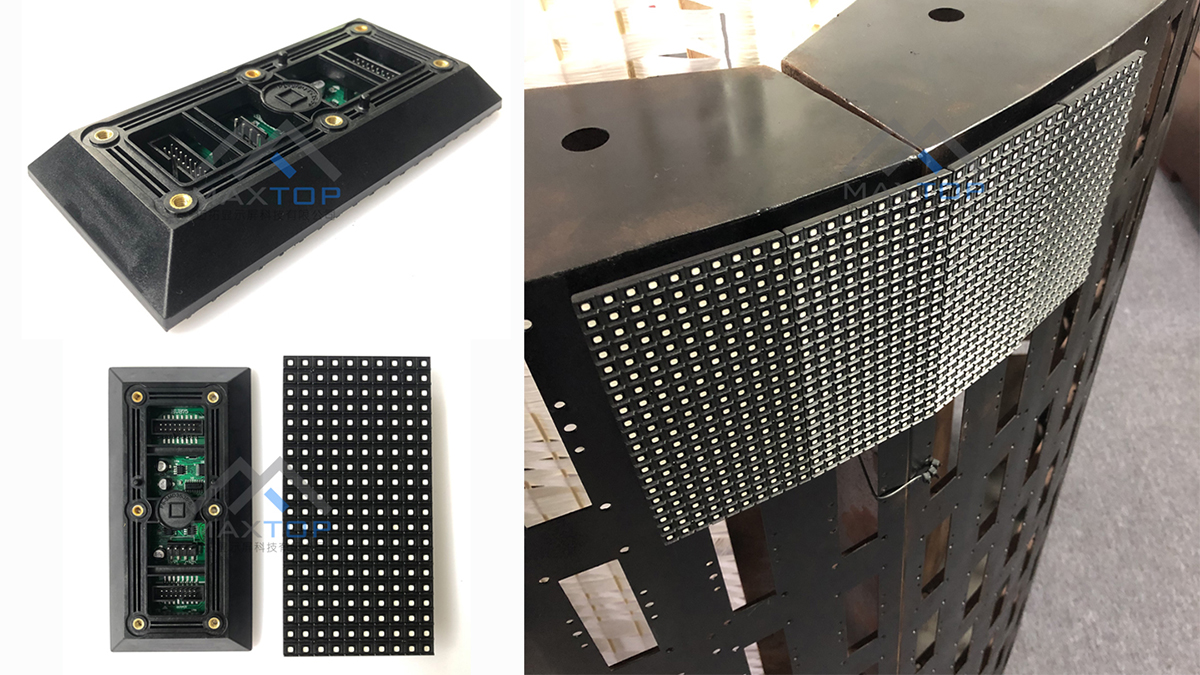 2nd is screen resolution meets the requirements, such as 2K to 4K or more, and then displays the content with a 3D effect on the screen to achieve the 3D result.
Maxtop-led's naked-eye 3D LED screens have the following advantages:
     1. The price is cheaper—–Our 3D screen is using a combination of regular and curve cabinets, it only increases the cost of the curve part which only takes a small part of the entire screen.
     2. Faster delivery time—–The regular cabinets normally have products in stock, and the small size modules could be produced quickly because of the small quantity.
Now, let me show you a 500sqm outdoor P8 naked-eye 3D LED screen we made recently in Shenzhen.
| | | |
| --- | --- | --- |
| Module Specification | Flat Part | Curved Part |
| Pixel Pitch | 8mm | 8mm |
| Pixel Density | 15625dots/㎡ | 15625dots/㎡ |
| Module Resolution | 40 dots x 20 dots | 10 dots x 20 dots |
| Module Size | 320 x 160 x 17mm | 80 x 160 x 20mm |
| Module Weight | About 490g | About 120g |
| Driving mode | 16 Constant Current | 16 Constant Current |
| Scan Mode | 1/5 | 1/5 |
| Working Voltage | DC5V±0.2V | DC5V±0.2V |
| Max Module Current | 6.5A(typical value)① | 1.8A(typical value)① |
| Power Consumption(max.) | 32.5W(typical value)② | 9W(typical value)② |
| Power Interface | VH4 | VH4 |
| Signal Interface | HUB75(IDC16) | HUB75(IDC16) |
| Brightness (Max.) | ≥4500cd/㎡ | ≥4500cd/㎡ |
| Color Temperature | 9000±500K | 9000±500K |
| Viewing Angle | ≦140° | ≦140° |
| Best Viewing Distance | ≥8m | ≥8m |
| Gray Level | 14bit | 14bit |
| Luminance & Chromaticity Correct | Supporting | Supporting |
| Refresh Rate | ≥1920Hz | ≥3840Hz |
| Load Range | (W)120dots (H) 120dots③ | (W)120dots (H) 120dots③ |
| Luminance Adjustment Range | 0 to 255 adjusting | 0 to 255 adjusting |
| MTBF | 50,000 hr | 50,000 hr |
| Working Temperature | -20 ℃ to 60 ℃ | -20 ℃ to 60 ℃ |
| Working Humidity | 10%-90%RH | 10%-90%RH |
| Storage Temperature | -40 ℃ to 80 ℃ | -40 ℃ to 80 ℃ |
If you need other products, please visit our product page: