New project in the Dongguan
Shenzhen City, GD (November 2020) – Maxtop GD technicians delivered a new project in Dongguan: Xinghe Real Estate indoor P2.5 LED panel. Jointly create a new generation of intelligent sales and marketing centers. Thanks to the long-term accumulation in the field of audio-visual and the integrated advantages in the field of display intelligence. The delivered projects include Xinghe Times Building (Shenzhen Dalang), the Xinghe Futian CCP display project, the Xinghe Dongguan Fuyu Garden Phase II project, etc.
The display on the first floor of the Xinghe Times Building project adopts our UT series P2.5 LED panel. Maxtop makes full use of its advantages in the field of LED display integration. According to user requirements, the refresh rate reaches 3840HZ. Front horizontal viewing angle: ≥160°; vertical viewing angle: ≥160°. The display screen has the characteristics of high definition, high refresh rate, wide viewing angle, and so on. Especially to meet the needs of the audience for shooting videos; the screen pixel density reaches 160,000 dots/㎡.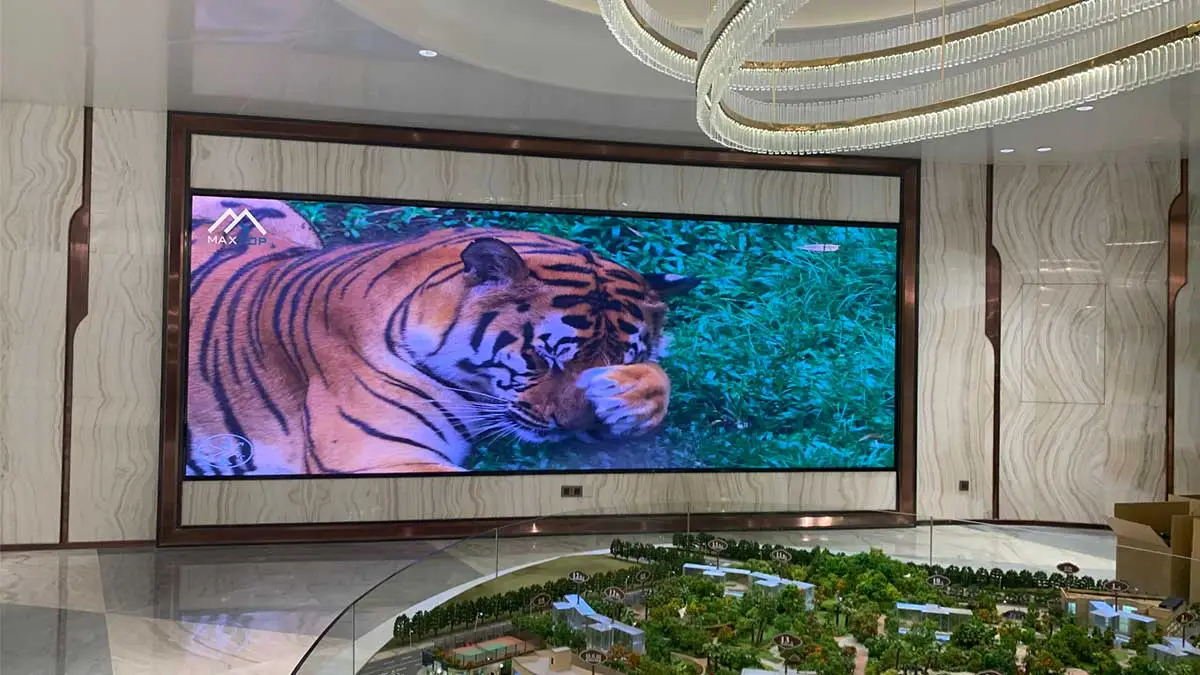 UT series indoor P2.5 LED panel
The high-definition video control system is adopted, and the main control is professional-level LED display control equipment. Possess powerful video signal receiving, splicing, and processing capabilities. It can receive high-definition digital signals with a maximum of 4096×4096 pixels. Support DVI, SDI, HDMI digital interface, and seamless switching between multiple signals. It supports splicing and zooming and supports a maximum of 3 screens plus 1 channel OSD display function. And it can be connected to the central control of the TCP/IP protocol. It can meet the requirements of the marketing center; the system wiring is reasonable, and the configuration design is scientific.
The UT series display screens play video images smoothly, and there is no tailing phenomenon in high-motion images. The size of a single module is 320×160mm, the pixel density is high, and the refresh rate is as high as 3840Hz. There will be no flickering and shaking when shooting with a mobile phone or video camera. The frontal horizontal viewing angle is ≥160°.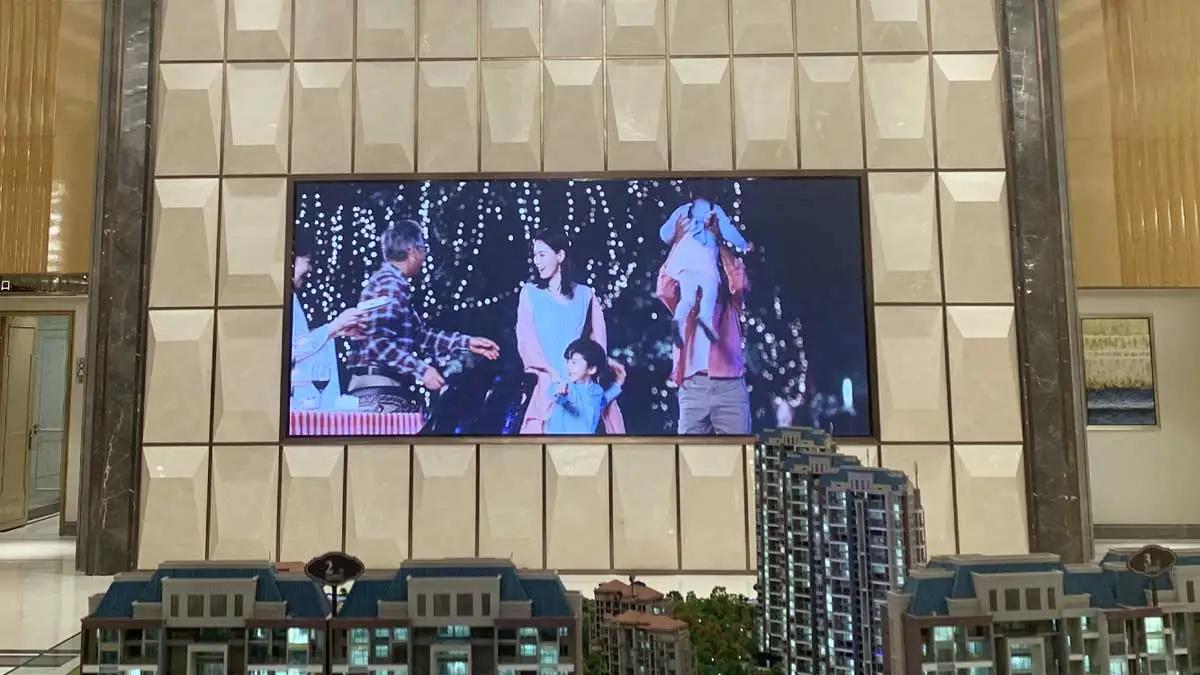 Creates multiple groups of display solutions
Maxtop starts from the details of each project and creates multiple groups of display solutions, covering a variety of scenarios. Intelligent adjustable brightness, ultra-high contrast, and 160° wide viewing angle provide marketing centers with intuitive, ultra-high-definition graphics, text, and real-time video synchronously presented for daily use, greatly improving the experience.
With the development of the times, the competition between brands has become increasingly fierce. How to create a vital and "breathing" corporate image display window and build a smart future display space will become important tasks for enterprises. As a dynamic display platform for corporate brand image, LED displays can help enterprises digitally upgrade from multiple dimensions such as information guidance, creative display, big data visualization, and smart conferences. As a reliable large-screen supplier, Maxtop will continue to innovate LED display technology. Grasp the development needs of the times, and continue to help Chinese enterprises take off in digital display with the most innovative display application solutions.
For more information on the LED screen or booking requests, please contact export@maxtop-led.com.
For more detail on the UT series, please visit our

INDOOR

 LED DISPLAY

.